Speaking of the baby... his new favorite spot is all the way over on my right side. He moves to far over that my belly button is off centered and I have a severe waddle. It's cute. Joyce giggles when he does it. I feel way off balance when he parks himself on the right. He's pretty stubborn and doesn't like to move when asked (or prodded). He's going to be just like me. Hehe.

I am starting to worry a little bit about when he arrives. I'm not even really worried about the labor. I am most worried about if Joyce's sister, Jodie, will show up at the hospital. It's a long story.I'll copy and paste it in an entry in a little bit. I've got it saved from an email somewhere. But basically I don't want her there. She doesn't deserve to know our son since she didn't seem to care to be involved in my pregnancy. The whole situation has caused a lot of familial drama and plenty of heartache for Joyce and I. Oh well. She made her choice and she'll have to live with not knowing her nephew.

Anyway. That's all I have for now. :-) I am in need of a nap shortly, so I shall see about updating more later!

xoxo,
Katrina
It is so hard to believe that Christmas is just a few days away and we have a baby due is eight weeks! Ah! I am so excited. I'm getting to that uncomfortable point in pregnancy. It is difficult to breathe most of the time. I have horrible heart burn. I am exhausted pretty easily. I come home most days with killer back pains. Every bit of pain is worth it, though, when I feel the baby move. :-)
Current Mood:

uncomfortable

Current Music:

Zac Brown Band- Chicken Fried


Joyce and I started our childbirth class two weeks ago. We have our second class on Tuesday and it really starts to make it all real.

I am having a baby.
My water may break.
I will have contractions.
I will go into labor.
I may be in labor for hours and hours.
I may be in labor for just a few.
I will have a baby boy.
He will come when he is good and ready.
And we have to be prepared.

I am -very- excited. We started going to the Doctor every two weeks. We've picked a pediatrician. In January we start going to the Doctor weekly. It certainly makes things fly by.

We have a lot of what we need for Carl. We have diapers and clothes. Bottles and wipes. We've got plenty of toys. We have a stroller, car seat, swing, pack-and-play and a bouncy seat that converts to a toddler rocker. I found the baby wrap I want for $9.00 on ebay the other day. It's used, of course, but they retail for $40+ for the style I want. The only things we still need are a crib, a mattress and a breast pump. All of these items are being taken care of, we just have to wait for their arrival.

Carl is getting more active, but I still feel like he doesn't move a lot. He kicks a ton at night and actually just got done with a thirty minute 'wham mommy' fest. He gave Joyce a couple of good kicks the other night. :-) She was surprised as how strong they were since they've previously been pretty mild.

My belly is constantly expanding. One day a pair of prebaby pants fit and the next they are a struggle to fit into. My t-shirts are starting to ride up my belly.

I am always cold. Everyone says pregnant women are normally hot. Not me. Cold. Always. Baby and I like to layer. ;-)

I am just... excited. I can't wait for him to be here. Eleven weeks seems like -forever- to have to wait, but I know he'll come when he is ready... and we will be ready when he comes.

xoxo,
Katrina
Today I am 29 weeks and 1 day pregnant. Holy crap. Where has the time gone?!
Current Mood:

happy

Current Music:

Taylor Swift- Love Story
Last time I made an entry, I think we had just found a sperm donor. Now, I am twenty-five glorious weeks pregnant. It was a little bit of a roller coaster getting pregnant. There is a lot of timing and planning involved. We did three tries. April and May both turned out as negative pregnancy tests, but in June we got a positive.
I am due on February 15- the day after Joyce and I's four year anniversary. We are having a little boy. He is incredible already. I started to feel him move around week twenty-two, but his movements get stronger every day. I rub my belly constantly and call him my little wiggle worm. It is such an incredible feeling being pregnant. I spent the first five months with my head in the toilet, but once that was resolved I started to feel pretty good. I am sprouting a fantastic little belly. People at work do a double take somedays and say, "Wow! When did you get a belly?!"
We have picked a name for our little bundle. His name is Carl Joseph. There has been great debate as to what we will call him. I am set on calling him Carl, but in Joyce's family all the Carl's go by their middle name. So we have considered Joey, but I told Joyce we would decide when we finally get to meet him. You know how it goes... sometimes a name just fits, and we will know when we see him.
I'm just happy. We both are. We are sooooooo ready to be mommies. I honestly didn't think it would happen so quickly, but it has. :-)
I don't have much else now, but I promise to update more frequently.
xoxo,
Katrina
It's been a long, long time since I've updated. :-)


-dies-
I think we found a donor.
Joyce and I have rekindled talks of having a baby and this time, I think it will really happen. I'm -hoping- to be pregnant by the end of this year, which means we need to start trying in Julyish. There's a lot that has to go into this decision. We need to find a donor, whether it be a known donor or from a sperm bank... we need to buy a house, set up a nursery, decide how we want to raise a baby... make sure we're both mentally ready for this.
I know I'm ready. My body is yearning to have a baby. It's all I can think and talk about since Joyce said, "Yes. Let's do this."
I just hope she is.
In other news, we got a puppy! His name is Jack. He is soooooo cute.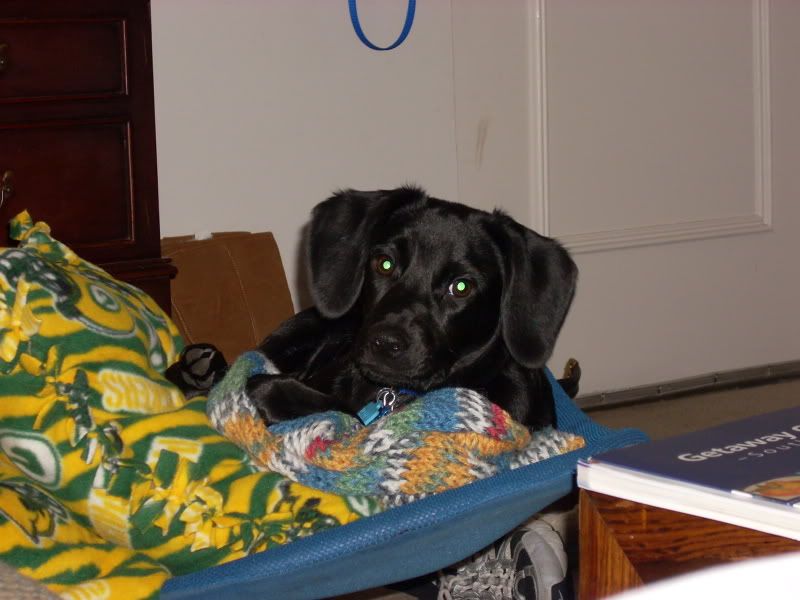 He is our bundle of joy. We adopted him in October.. he's about 6months old now.
Not much else on the home front... just bored.. and sleepy... and ready to be a mommy.
It's been a long, long time since I updated here... about seven/eight months.


Well, today we went to Half Price books and found another. I sat in a chair and flipped to a random page and began to read as Joyce browsed other books.

I just want to say that I now know more about warming frozen sperm than I ever thought I'd want to know. I also know what to discuss with our donor before hand... such as:

- Will the donor ejaculate somewhere in your home, or at his home, or at a hotel
- How will the sample transfer hands? Will he pick drop it off? Will you pick it up? Will it be left on your door step?

I told Joyce all about it... she was just awed that I knew that much!

Yay to lesbian mommies-to-be (someday soon... I hope.)

<3 the lil hurricane
So Joyce and I have decided to start a family. We bought a book about a week about about becoming a lesbian parent.. the steps, what to expect, etc.
Current Mood:

excited
Current Mood:

hungry
I walked past the cage about an hour ago and noticed she was laying on one of the ramps, as if she were going to go down. She had her little nose between the grates. I tapped on the cage, and she moved a little, but just sort of settled back down into laying as the other girls ran up and down the ramp past her.
We decided to move her out of the cage, and into the old removable petting zone from our males cage. We added some carefresh, a little bit of food, and a shallow tupperware lid of water. I heated up this thing I use for my back and neck and set it under the temporary housing to keep her warm.
She seemed to improve a bit while in there. She moved around a bit, drank water, and then settled in near the lab blocks.
I checked on her about 15 minutes later to see her big eyes gazing up at me, but no chest movements. My girlfriend checked, picked her up, felt her cool, limp body and set her back down.
She was a big, beautiful, sweet mouse. I'm glad we got her out of the main cage when we noticed something wrong... I don't think I could have handled it if the other girls has 'snacked' on her.
I'll miss her dearly.
RIP Martha <3
We lost a mouse today. Martha, our beautiful brindle.
Current Mood:

sad